Technology has impacted how people practice, create and perform music, and has definitely changed the musical learning process over the years. It certainly has influenced Jordan Rudess's work for good, as he tells in this exclusive interview.
A world-class musician with a stellar musical education
Rudess is a keyboardist/multi-instrumentalist and composer for the Grammy-Award-winning band Dream Theater. You will also find him jamming with his group, Liquid Tension Experiment, where he connects with John Petrucci, Mike Portnoy, and bassist Tony Levin.
If you haven't met Jordan Rudess' work, keep it in mind: he is a multifaceted man. He is an educator at heart, author of keyboard technique books, and also runs an Online Music Conservatory, which offers courses and lessons on everything from basic music fundamentals to advanced exercises that Jordan has personally developed over the years.
Many consider him a virtuoso, and it has everything to do with his early music upbringing. Jordan attended The Juilliard School, a world leader in performing arts education, at age 9. In his teens, he had become a tech lover and started including synthesizers in his performances.
Music and technology: irreversibly intertwined in Jordan's creative process
Jordan is passionate about music and technology, and for over a decade has been working in the exciting intersection of both areas. Apart from being on stage with the upcoming Dream Theater tour, he has hit the business road as the owner of Wizdom Music, an App development company that has developed award-winning apps.
We spoke with Rudess about the use of technology in music, his creative process, and much more. Check it out:
MOISES: How old were you when you started practicing music? Was it keys from the beginning?
JORDAN RUDESS: I was 7 years old. I had a teacher that recognized that I had a good ear, so he threw the little red book out the window and taught me the chords and how to improvise. After it was discovered that I had some talent, my parents got me a proper classical teacher, and I auditioned for Juilliard and started going there at age 9.
MOISES: You are a tech enthusiast. What do you think about using technology in music?
JORDAN RUDESS: It is incredible to think about the opportunities that music technology can offer. From musical expression to audio analysis, tech that provides advanced entertainment to tools that help educate students and train the musician.
MOISES: Technology has been helping musicians to craft their performances. What was it like using Moises to perform live at NAMM?
JORDAN RUDESS: Amazing! I knew it would be interesting to use Moises in performance - but when I actually performed with it, I quickly realized that it opens up wonderful musical possibilities that were never available to me before.
MOISES: We just launched the Moises iPad App and are delighted to have you as an enthusiast! How is Moises part of your daily life?
JORDAN RUDESS: Discovering Moises was an awakening for me. I love it. It puts so many advanced musical tools logically in one environment, it's like a dream come true. I use it to do duets with singers I like by soloing out their parts. I use it to practice guitar by slowing down sections and muting guitar parts while leaving bass and drums.
MOISES: What's it like when you are writing new songs? Do you have any preparation or ritual?
JORDAN RUDESS: Once the creative wheels are flowing it's usually like an unstoppable train. I'm an improviser and I love to sit down at my instrument and create new ideas. I also enjoy writing music in different ways. A lot of times I start with a piano sound and then orchestrate things later and even remove the piano. Sometimes things start with a drum groove or bass line. Technology can also certainly influence my writing.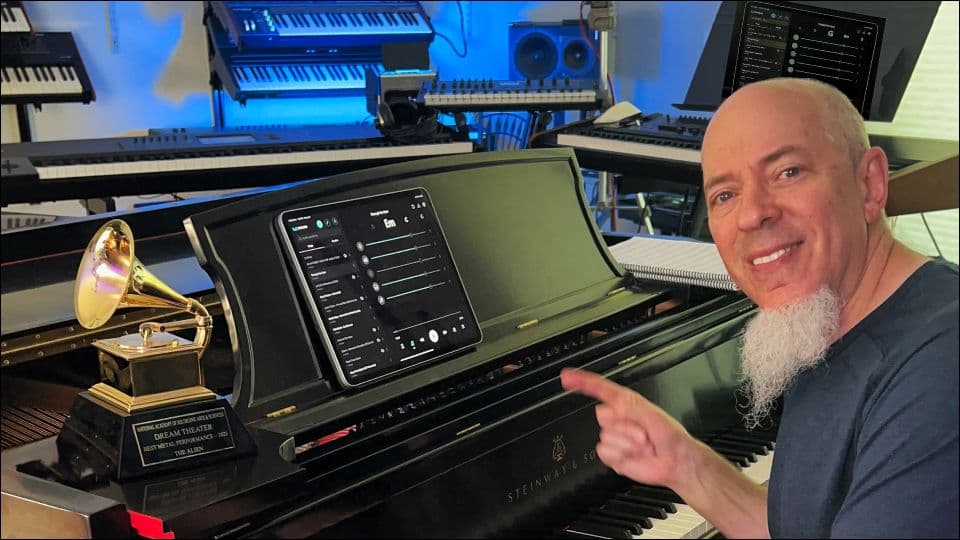 MOISES: You are very interested in education and in educating. How do you use Moises to educate yourself through practice?
JORDAN RUDESS: It is incredible to have access to features like Pitch Changer and AI Key Detection, and beyond that, even seeing what chords are being used. What an amazing gift for musicians and students to have this software. When I grew up there was nothing like this. It's about giving access to information and Moises makes it possible to really go in deep and get that information from the music.
"I'm currently going back to the music that I grew up with and using track separation to hear music I've loved on a whole different level. Things like "YES- And You and I" or parts of Dark Side of the Moon are blowing my mind once again after separating all the tracks!"
MOISES: Would you mind sharing with us a practicing tip using Moises iPad App?
JORDAN RUDESS: One of my favorite things to do is load in a song, and then turn on the Smart Metronome feature and slow the whole thing down without changing the pitch. Practicing parts slowly with the metronome and then gradually increasing the speed is the best way to really master a part! If you want a REAL challenge, try changing the key up a step and play the song transposed! The Chord display will really help you in this case.
MOISES: How to improve improvisation on the keyboard, specifically in Latin music? What would be the golden keyboard tip for beginners?
JORDAN RUDESS: Being able to improvise on the keyboard means being able to find all the chords and their inversions quickly. This takes time. Also improvising is almost like talking in the sense that you are calling upon musical words and putting together "sentences like musical phrases". One has to develop their musical vocabulary to speak the musical language. Of course in Latin music, the rhythm component is key and needs to be studied! That's a whole subject matter unto itself!!
MOISES: Dream Theater is going on tour. What is the best part about it? Is there a study and rehearsal routine when you are on tour?
JORDAN RUDESS: I love traveling to all the different countries and feeling all the different cultures. I'm someone who goes out and walks a lot so I experience many of the sights and sounds of a place! Generally, Dream Theater works together for a couple of solid weeks but of course, the individual preparation goes beyond that! I generally start programming sounds on my keyboard months before a tour and also work on the hard sections with Moises to help slow things down at first and then bring it up to speed!
What about you? Has technology helped you to master your music skills? Our team is always on the run for crafting Moises AI, developing the best music app for our community and providing you with the most effective and simple features.
If you are a tech-head too, meet our new launch: Moises iPad App: A New Way to Play Live
Now that you know Jordan, take a look at another world-class musician Moises has interviewed: Meet Eloy Casagrande, drummer of the band Sepultura