Adoption of AI is moving quickly across major industries, yet its development for individual businesses is much reliant on the time and bandwidth of experienced (and costly) tech professionals. For those businesses who have clear AI objectives, or even those open to experimenting with AI to understand the impact it could have on overall productivity, a full-scale interface with drag and drop modules may be an immediate, scalable, and affordable solution.
Meet Orchestrator by Moises.ai. Designed to democratize access to AI technology by removing barriers like cost and timing that businesses face, when in need of an AI solution. Moises' Orchestrator is the technology that powers Moises' award-winning consumer application that boasts over 30 million users. Moises is one of the only companies in the world processing and supporting complementary AI workflows at Enterprise Scale.
Orchestrator is available now, click here to request more information.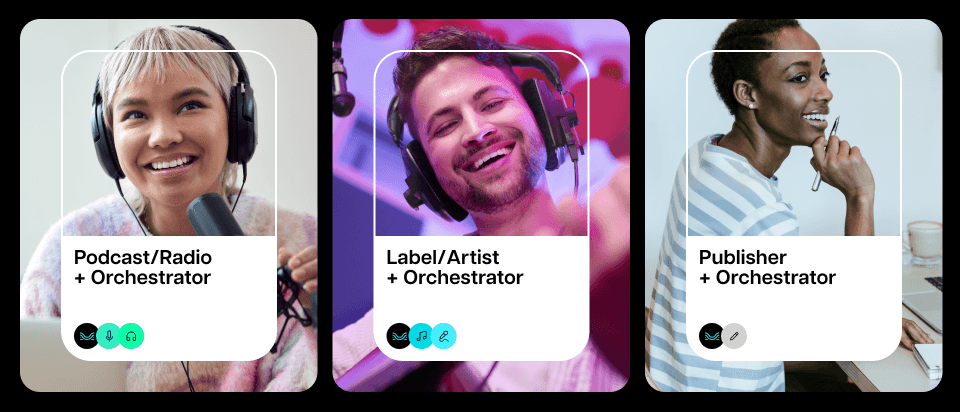 A radio or podcast host with hundreds (or thousands!) of hours of content could use Orchestrator to process episodes at scale, remove background noise, and transcribe the dialogues.
A label or artist could use Orchestrator to automatically create stems out of their current masters and to produce new multitracks.
A publisher could analyze current repertoire and extract information to optimize internal licensing teams.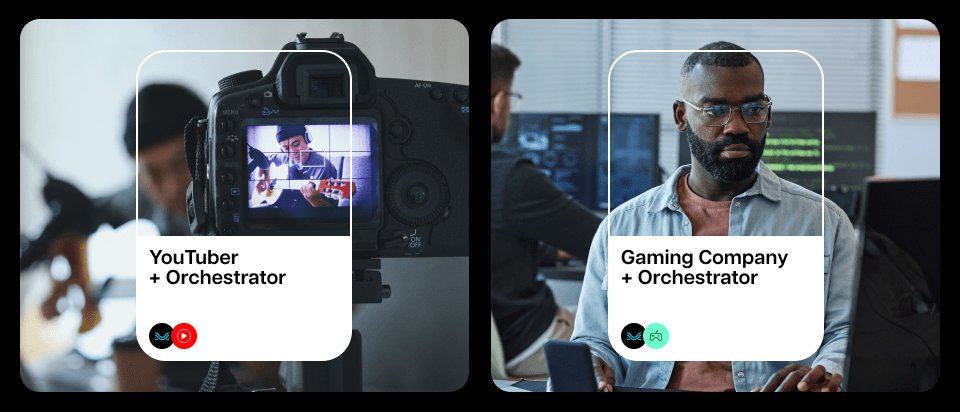 A YouTuber could process multiple videos, transcribe the episodes, and encode any lyrics to fit the correct format and be compatible with YouTube (e.g: SRT).
A gaming company could run Orchestrator to extract metadata from audio, such as downbeats, chords, and more, to create immersive experiences.
Before Orchestrator, this kind of venture into complementary AI technology may have collided with bandwidth issues, cost, development time, lack of experience, or a dozen other challenges. With an easy and intuitive interface, Orchestrator allows any business to drag and drop different elements (such as stem separation or transcription using AI), and test if a particular sequence works. If the test produces a successful output, businesses can save and run the code on their own sites. Anyone can get up and running in less than 5 minutes and start processing their first batch of media, no engineering degree required!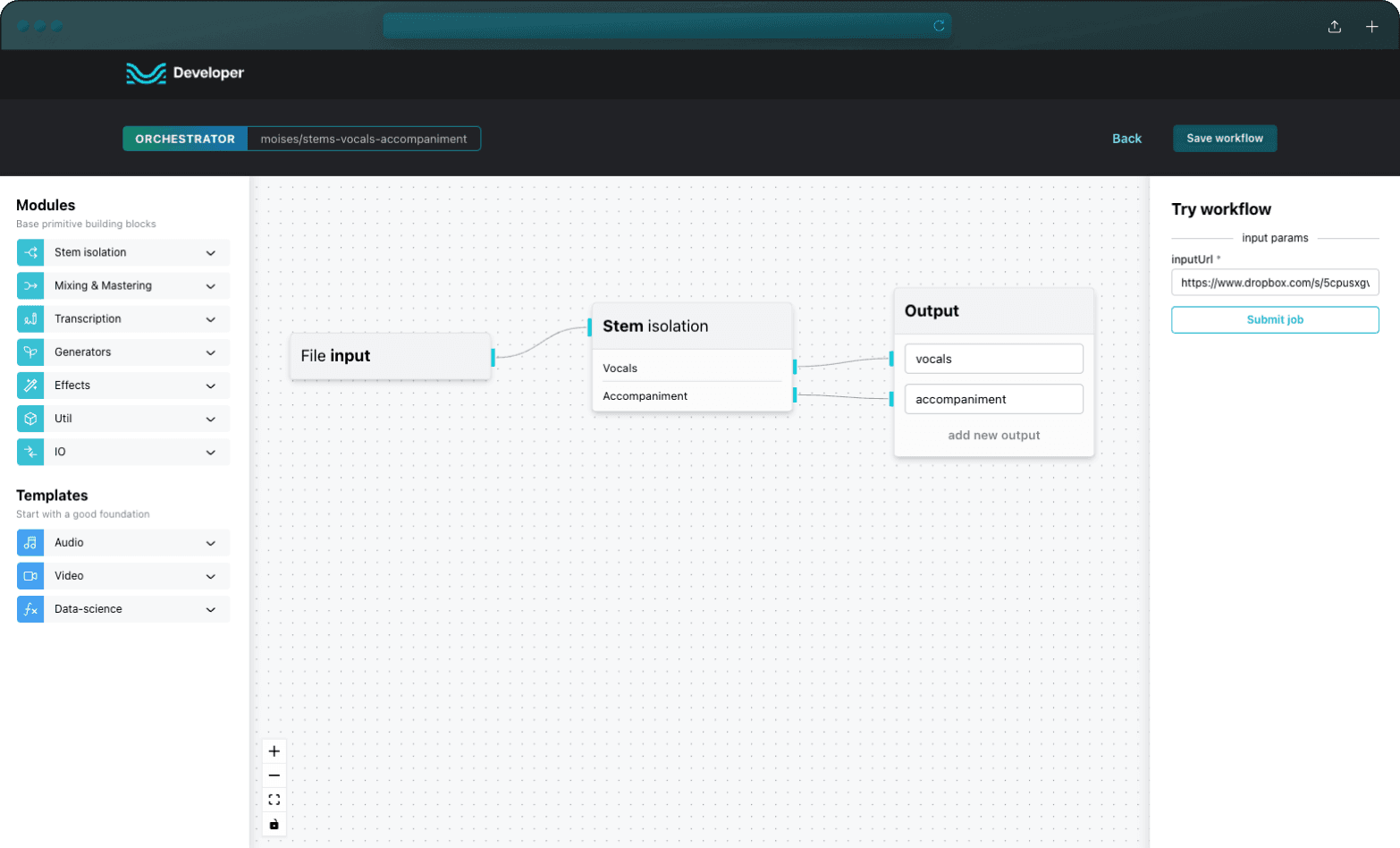 Let's break down a few of Orchestrator's powers:
Quickly adopt the power of AI at scale. A no-code UI creates easy AI adoption by any company, with the flexibility to create workflows combining multiple modules to transform any media. Our infrastructure and engineering not only provide competitive pricing and convenience, but also allow anyone to scale their project, from processing a few tracks to millions of tracks with reliable and fast results.
Test ideas without a developer. Working with a developer on an AI-powered solution can take weeks or months. Implementing ideas with Orchestrator takes minutes, and can easily be changed or edited, even after a successful output has been received and published.
Find a flexible and secure environment. Companies have end-to-end control around their source files and outputs, and will be given the opportunity to use Orchestrator however they wish. A company can choose to point their processed media to a self-hosted storage, or to a Moises hosted infrastructure. They can run workflows using local files, with the quickest processing available.
And more to come. To help its customers keep up with expansion of AI technology, the Moises.ai team will provide and update quick-start templates for commonly requested AI sequences to help users get started. They are rapidly adding new modules, including those from select third parties, so companies can rest sure that they're using state-of-the-art technology.
The Orchestrator is already powering experiences for millions of users. Find out how it could work for your company by reaching out to Matt Henninger at [email protected].