As time, technology, and music progress, so do we. We understand that musicians and creatives need ever-growing methods to continue to expand their own practice, so we strive to design innovative and practical strategies for our users to do just that. Below we've laid out exactly what our relaunched Web App features are and how they can help better your craft.
Vocal, Background Vocal, & Guitar Separation
Some of you have asked us to create a method to separate lead and background vocals, so we did! With best-in-class quality vocal extraction, you can now isolate background vocals to learn harmonies seamlessly. Or, you can single out lead vocals from the song- keeping ONLY the harmonies and in doing so creating the perfect track to perform to.
We are proud to say Moises currently has the only AI that is able to separate background vocals.
Can't find backing tracks for guitar? No longer an issue! With our newest features, we made it simple to remove or isolate guitar tracks from a song. Not only that, but with the integrated web app, you can download the best-in-class quality stems directly to your computer to speed up and facilitate the creative process.
Guitar covers, karaoke or backing tracks, the ability to learn riffs or solo's, all this with the click of a button, now available on the Moises Web App.
Upgraded AI Quality
As previously mentioned, Moises prides itself on the quality of our technology, that's why with this new update we've introduced up to 4x faster separation speed. Not only that but our new 4 track separation is the highest audio quality AI separation to date that Moises has ever had. Talk about innovation! We've also bettered the audio quality for both our Bass and Vocal tracks.
What does this mean for you? It means the overall quality of your tracks have been improved, and you've regained one of the most precious resources when it comes to playing, creating, producing, or mastering music - your time.
Relevant Song Information
For producers, musicians, and singers, having the key and BPM is crucial, especially in a team or band scenario. Gone are the days of matching pitch to find the right key or having to search for a songs' BPM. On the Moises Web App, when you upload a song our AI will automatically detect the song key and BPM, and display it clearly inside the Web App separated track window. Even the single tracks will come with the BPM and key attached. We want making music to be an enjoyable experience, so we've instilled a way to spend less time searching and second-guessing, and more time spent doing what you love.
Export to Create
With our new and improved AI Separation, you can create a drumless, guitarless, vocaless (you get the point) track from ANY song.
After making all significant adjustments to your individual tracks, click on the download icon to easily export the entire mix with higher quality audio, or the separated tracks in either MP3, M4A, or the newly added WAV format.
Then choose if you prefer to copy the link, share the file or download the track. Save your music to your preferred location, such as Google Drive or iCloud, or share the file with anyone you want.
Moises makes it much easier to separate audio tracks online and explore your creative potential, whether creating karaoke tracks with friends, covers, acapella versions of your favorite compositions, learning music, producing, or whatever creativity allows!
Mastering by Reference
Last but certainly not least, we've added a 'Master by Reference' feature, available for both Free and Premium users. What is mastering by reference you might ask? It's a brand new product available on Moises Web App that enables users to master a track using another track as a reference. Mastering by reference helps users with no professional expertise to master their tracks and make them sound like the original artist.
Reference mastering should serve as a guide rather than a target, as you want to be able to develop your own tone and flare when creating your finalized music. They are useful if you have a particular artist, song, or album in mind that you want to sound similar too, and it is a great stepping stone for creatives to learn and develop the ear and skill required to begin mastering on their own.
How to make the most out of the Moises Web App
The democratization of music technology is at the core of our mission, which is why we want every Moises user to enjoy the features we have built. However, some features have a limit if you're a free user. To make the most of everything the new Web Player has to offer, upgrade to Moises Premium.
Check out the benefits of the paid plan below: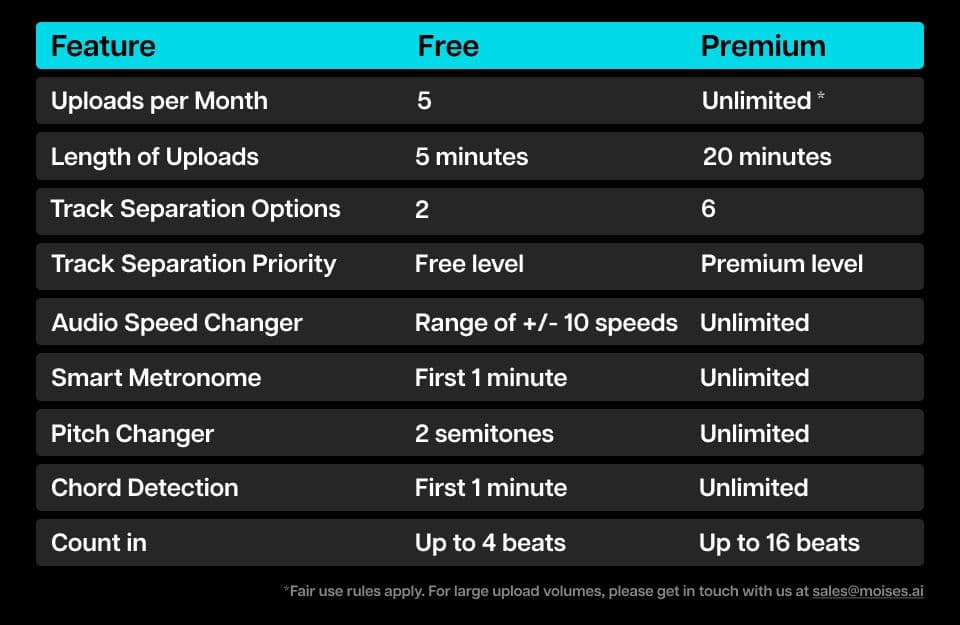 If you'd like to get more info about all the powerful tech you can find in our app, check out this comprehensive article with all of our features listed and explained in more detail. You'll learn about our AI Audio Separation, Playlists, Mastering by Reference, and much more.