We've got some great news! You can now access all Mobile App features in the Moises Web App and the Desktop App.
With our new Web Player available on Google Chrome, Edge, and Opera, you can enjoy seamless workflow across all your devices. Plus, we've got some brand-new perks in the Moises App for PC and Mac to make your practice even more efficient.
Ready to dig in?
All the features you already love, now in the Moises Web App
Besides the comfort of the bigger screen, playing around with AI-generated stems and exporting them into your DAW can now happen from the same place. But the benefits go way beyond that.
Pitch Changer & Audio Speed Changer
With the Pitch Changer, you can shift the key of any song in real-time, whether that's to fit a specific vocal range or to practice a variety of guitar chord progressions. The chords are transposed automatically, which means no extra work for you.
The Audio Speed Changer is great for hearing all the nuances in tricky drumming solos or guitar riffs. You can slow down the tempo to hear all the instrumental details.
Loop Sections
We're excited to share our Loop feature with you, as it really helps to master difficult sections of a song. You simply select the part that requires some extra work and keep it looping to practice along. After all, we all know that repetition is a necessary labor for any musician. Feel free to slow the looping section down with the Audio Speed Changer for an even more thorough practice.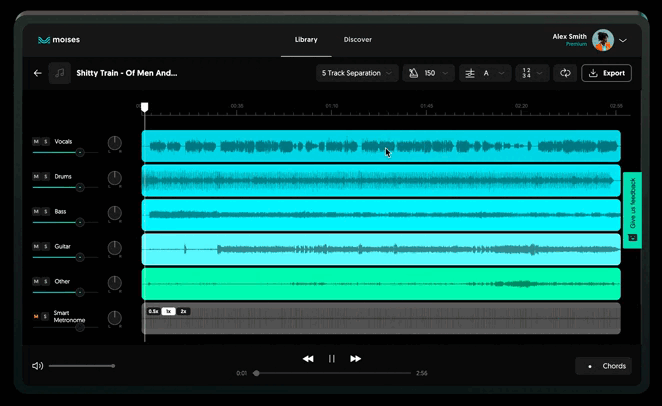 Smart Metronome with Subdivisions
Practice with our Smart Metronome and never stray offbeat. Generate click tracks from any track, and you're ready to hone your rhythm skills. Choose from 0.5x, 1x, or 2x subdivisions for the beat that works best for you.
Count in
A highly requested feature, now fully available to use from any device. Set up a count in with up to 16 beats to start the song right and get a perfect sync every time.
Change the Track Separation Option - NEW!
Our brand-new feature will allow you to change the track separation option of songs you've already processed. No need to import them into the Moises Web App again.*
*If you are a free user, get Moises Premium to use this function without the monthly cap of 5 uploads.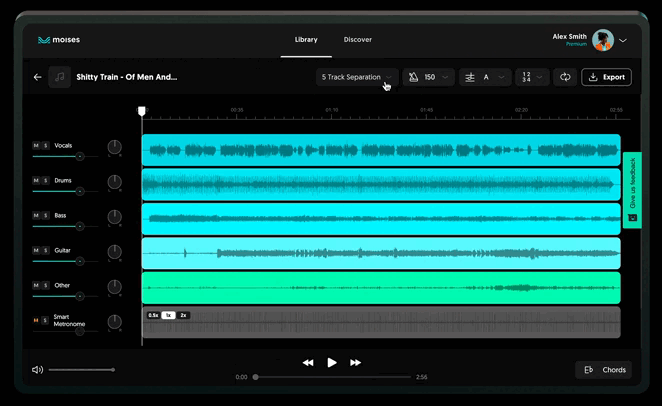 Master Volume - NEW!
After you find out which track separation mode is best for what you need, the new Master Volume function is especially useful for live performances. You can adjust the volume of all your tracks to achieve a unified sonic experience, letting your creativity shine without any acoustic dissonance.
Chord Detection with Diagrams - NEW!
Isolating and slowing down any instrument while using AI Chord Detection is excellent for guitar practice. With the added bonus of seeing real-time chord visualization at the pace you select, your skills will soar. Plus, our new Web Player shows you these chords with diagrams that include finger placements, which adds extra educational value.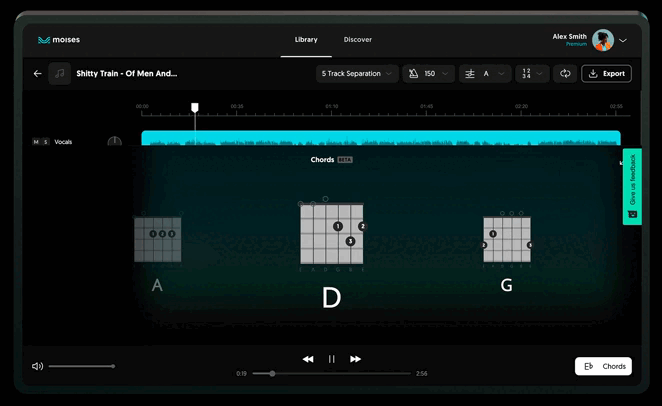 Shortcuts - NEW!
In the new Web Player, we've created some shortcuts to make your practice or production more efficient. For example, you can play or pause a song using the space bar on your keyboard.
See the new Web Player in action
To see the seamless feature parity come alive, check out the video below with a UK guitarist, Sped Spedding. Besides working as a teacher, he loves to share his guitar know-how with a YouTube following of 97k music learners.
How to make the most out of the Moises Web App
The democratization of music technology is at the core of our mission, which is why we want every Moises user to enjoy the features we have built. However, some features have a limit if you're a free user. To make the most of everything the new Web Player has to offer, upgrade to Moises Premium.
Check out the benefits of the paid plan below: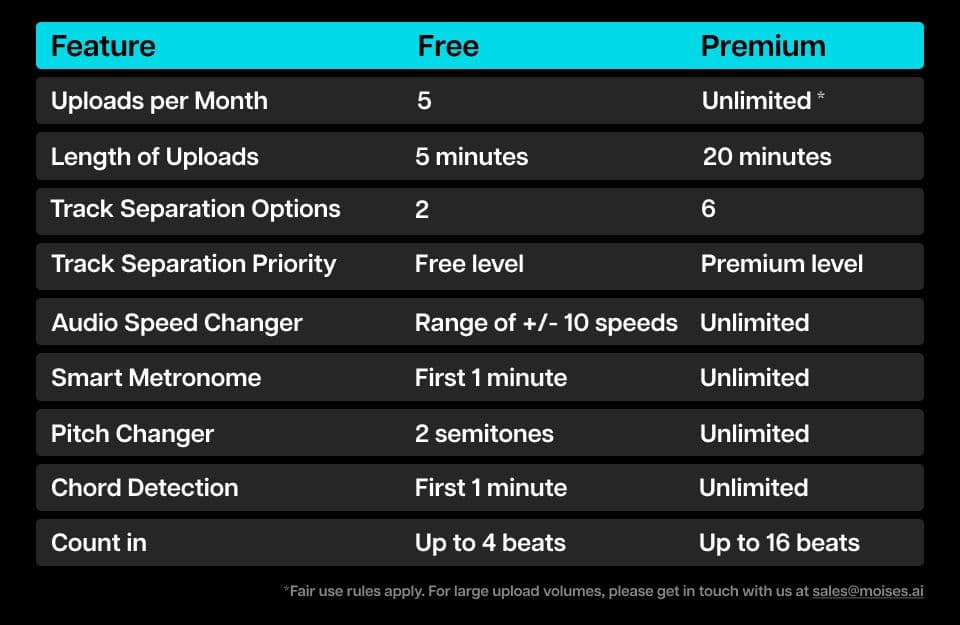 If you'd like to get more info about all the powerful tech you can find in our app, check out this comprehensive article with all of our features listed and explained in more detail. You'll learn about our AI Audio Separation, Playlists, Mastering by Reference, and much more.